WEIGHT DISTRIBUTION

WEIGHT DISTRIBUTING TRAILER HITCHES (Click Here for Adjustment and Installation Instructions)
Weight Distribution Trailer Hitch shown with Adjustable Ball Mount.
The spring bars do not drop below the ball mount so they have plenty of ground clearance to accommodate uneven road surfaces. Left and right spring bars are identical to avoid confusion in setting up the hitch. Spring steel is used for the spring bars to absorb much of the stress and provide a more comfortable ride.
The standard adjustable ball mount allows the hitch to fit a variety of tow vehicles and trailers. Setup is easy with both vertical and angled adjustments possible. The bolt together design save installations time. Unique on the tow vehicle adjustment of the ball height and the ball mount angle lets you position vertically through a range of 6.62 inches and 15 degrees of ball mount angle. A built-in friction sway control adapter eliminates the need for welding during the set up of a trailer with a Reese Weight Distribution Hitch and Friction Sway Control.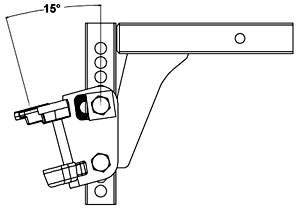 ---
Showing 1 to 5 of 5 (1 Pages)